Gongwer to speak at ABCA Convention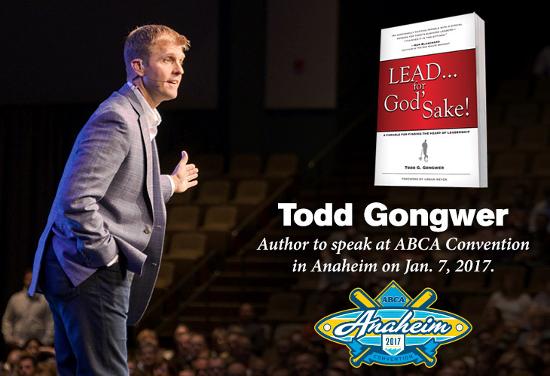 Noted author and coach Todd Gongwer, who wrote the successful book LEAD…for God's Sake, has been added to the speaker lineup for the 2017 ABCA Convention in Anaheim Jan. 5-8, 2017. Gongwer has spoken before countless organizations, including many college and university teams, professional organizations and major businesses.
His expertise in leadership and cultural dynamics comes from a broad range of experiences in the world of business and athletics, spanning over 25 years. He has held numerous executive positions in companies ranging from entrepreneurial start-up to public entity, while also serving as an assistant college basketball coach for over a decade.
Notable Leaders Impacted by Gongwer's Message:
"An incredibly powerful message!…will inspire you to think more deeply about leadership and your true purpose in life!"
-John Smoltz, MLB Hall of Fame Pitcher
"A powerful message that challenges you to assess where you are as a leader in all facets of life! I've read it multiple times."
-Brian O'Connor, Head Coach, 2015 NCAA Champion Virginia
"This book will reach deep into your heart and help you find the leader you really want to be; at home, at work, on the field, EVERYWHERE! – A must read."
-Gary Gilmore, Head Coach, 2016 NCAA Champion Coastal Carolina
"Regardless of where you are in your leadership journey, this book will connect with you in some way!"
-Tracy Smith, Head Coach, Arizona State
"An inspiration…A must read for all coaches!"
-Monte Lee, Head Coach, Clemson University
"Outstanding! An excellent reminder of why we do what we do."
-Jake Boss, Head Coach, Michigan State University
"A powerful message…clear, concise, entertaining and understandable."
-Urban Meyer, three-time National Champion Football Coach